Optimize Your Activity withBusiness Intelligence
Strategic information is often buried in the volume of data in information systems. Moreover, data are sometimes stored in an unorganized or unstructured manner. As their volume grows daily, it is very difficult to make sense of them and understand what they mean.
Business Intelligence makes it possible to find this strategic information, which is crucial for the proper management of a company.
Indeed, Business Intelligence, "BI", relates to the technologies, practices and tools used for the collection, integration, analysis and presentation of a company's key data. The main purpose of Business Intelligence is to offer decision-making support. BI systems provide an historical, present and possibly predictive view of operational data. In addition, BI solutions allow managers to define their overall strategy and monitor its evolution.
First, data are extracted from different data sources available in the company. In order to extract data, we use an ETL ("Extract, Transform & Load") tool. Data are then integrated into a data warehouse. Once stored and structured, data are accessible in different formats: dashboards, reports, queries, analyses, alerts, etc.

Business Intelligence can be developed for all business applications: customer relationship management (CRM), financial management, production control, human resources management, quality control... But the main advantage of Business Intelligence is to be able to compare all these data in a single system.
Within a company, data presentation tools offered by Business Intelligence are intended for everyone. Everyone will find the tool that suits him or her best and that best matches his or her function:
The management monitors the performance of the company and the effectiveness of the strategy using performance indicators presented in dashboards
Analysts, on the other hand, literally navigate the heart of the information to understand and analyze business highlights
Employees use structured reports to monitor the day-to-day operational activities of the company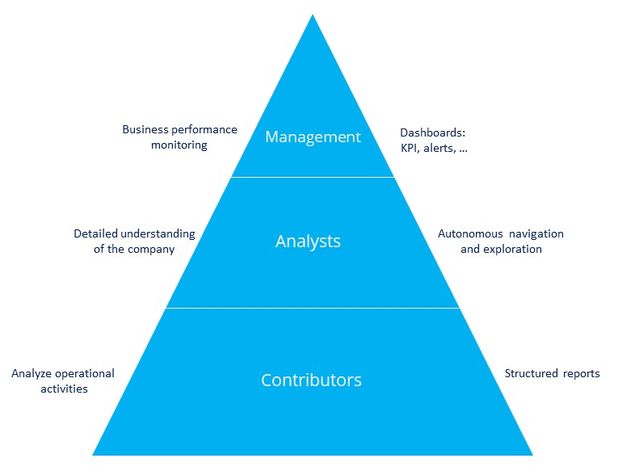 Technologies supported by Wavenet
Microsoft SQL server BI suite
MS Power BI
SAP Business Intelligence (SAP BO & SAP BW/HANA)
Knowage
Talend
Created in1999
165Dedicated people
Turnover17%
355customers and you?